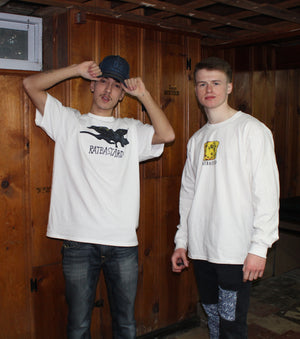 Chase Dreams, Not Cheese.
Our core values revolve around the entrepreneurial spirit, someone who wears Ratbastard has passion behind everything they do and are willing to stand out along with take risks to obtain their dreams. We engage with our community to create pieces that express your true ambitions. Stressing the importance of trying new things, pushing boundaries, thinking creatively, and most of all being you! All of our designs have deeper meanings that speak to our core values.
We pride ourselves in always curating unique collections. Ranging from Graphic Tee Shirts, Graphic Sweatshirts, among other accessories coupled with our mission.
At Ratbastard Supply Co., we are aware of one fundamental driver behind societies throughout our world that being money (cheese). Which creates a false sense of reality for many individuals, we are manipulated into thinking that the only way to reach happiness & success is through obtaining large amounts of cheese which simply is not the case. Happiness should always be the North Star which is reached by chasing your true passions, desires, and ambitions. We aim to use our creative imaginations and our acquired drive to help others realize their true potential. 
You may ask yourself why would a Ratbastard have any relation to these values. Throughout history rats have been looked at as dirty, scapegoats, and by no means a idolized symbol. But if you look at rats through a different perspective you will realize a new light - rats are creative, unique, driven to succeed and dedicated to finding ways to chase cheese. Just remember to not get caught in the cheese trap, chase dreams. Ratbastards are creative minds, those who go against the grain, those who are dedicated to succeed, those who are self-aware. Ratbastards are unique, be different, be you.
 The Rat Pack Team
John the Business Rat:
"For the longest time I've always loved watching businesses grow. The thought of turning a BIG dream into reality inspires me. In 2016 I had the desire to build a worldwide community of people chasing their true passions. Which lead me to think building a clothing brand would be the perfect medium. Ratbastard Supply Co. emphasizes the importance of unlocking the better you. Constantly looking for new opportunities along with chasing experiences to help you grow, develop and find your true passions. I'm determined to obtain the goal of helping people worldwide unlock their true passions & potential. Through our fantastic team and everyone who supports our vision worldwide I'm confident this will be realized."
Matt (Beaver) Design Rat: 
"I have always loved to draw and doodle in my free time. Ratbastard Supply Co. enables me to take my passions and put them to work everyday." 
Zach the Creative Rat:
"I've always had a passion for drawing and the arts for as long as I can remember, and more recently as I've gone through college I have especially garnered an interest in graphic design. Ratbastard has given me an opportunity to take my first steps as a graphic designer through unparalleled support, and by providing a platform where I have unlimited creative range. Through our work we will drive the brand forward and make Ratbastard a household name."
Mara the Marketing Rat:
"I've always enjoyed marketing, search engine optimization, among other business development tactics. Ratbastard is the perfect medium to implement my passions." 
---
Choosing a selection results in a full page refresh.
Press the space key then arrow keys to make a selection.
Use left/right arrows to navigate the slideshow or swipe left/right if using a mobile device